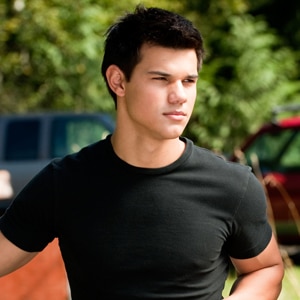 Why Couldn't Eclipse Beat New Moon?
UPDATE: Final numbers out today show Eclipse had a bigger-than-estimated weekend, and upped its overall domestic take to $176.4 million. The film is now just $2.5 million off the pace of New Moon. And now back to your debate…
________
Did fireworks scare off fang-girls? Did Team Jacob's
screams
scare off the unaligned crowds? Why couldn't
Eclipse'
s box-office start quite match
New Moon
's?
Here are the findings on the new Twilight movie's Fourth of July weekend:
• For starters, the $68 million Eclipse made lots and lots and lots of money: $82.5 million from Friday-Monday alone, per the latest estimates.
• Since opening Wednesday, Eclipse has sucked up $175.3 million domestically, the biggest six-day haul of the year, and the eighth-biggest in Hollywood history.
And yet…
Despite its stellar stats,
Eclipse
is still running slightly behind
New Moon
, which, after six days, had taken in $178.9 million (for sixth on the
all-time list
).
The difference between the two Twilight Saga siblings is small—less than $4 million—and New Moon's slightly faster start was mainly aided by the calendar, with New Moon taking full advantage of its Friday opening day.
Eclipse, however, was not thrown to the wolves by Summit Entertainment. While its Wednesday opening pretty much prevented it from vying for opening weekend (or New Moon) records, its summer setting could lead to bigger mid-week grosses—and, eventually, bigger-than-New Moon grosses.
Other notable box-office factoids:
• Toy Story 3 was to crack $300 million overall domestically today—its 18th day in release. Only six films have reached that milestone faster, per Box Office Mojo.
•
With a $53.2 million Friday-Monday gross,
The Last Airbender
didn't crash, but its fuel may be about to give out. Opening-weekend audiences graded the critically trashed fantasy epic a so-so C, the
Los Angeles Times
reported
. (By comparison, the
Twilight
faithful awarded
Eclipse
an A.)
Here's an updated look at the Fourth of July holiday weekend's top-grossing films, per Friday-Monday estimates compiled by Exhibitor Relations:
The Twilight Saga: Eclipse, $82.5 million
The Last Airbender, $53.2 million

Toy Story 3, $42.2 million
Grown Ups, $26.5 million
Knight and Day, $14 million
The Karate Kid, $11.5 million
The A-Team, $4.3 million
Get Him to the Greek, $1.6 million
Shrek Forever After, $1.3 million
Cyrus, $1 million